A follow up to Paul's first ever children's book which was released in 2019, the newly-published book – aptly titled 'The Young Designers' – documents the latest of Moose & Mr Brown's adventures. Charmingly illustrated in wonderfully vibrant watercolour by Sam Usher, a new cast of characters come to life in this tale of creativity.
The last time we met Mr Brown (an internationally renowned fashion designer who might just remind you of someone…) and Moose (his smart, savvy assistant), they were travelling the world designing incredible outfits for all the animals they met on their journey with some incredibly stylish and inventive results.
For this instalment, the duo is back on home turf at Mr Brown's London studio (which looks a little like Willy Wonka's factory – or, indeed, the inside of Paul's own office). All is business as usual, at least until a school trip of aspiring designers turns up to design their own T-shirts. With Mr Brown out of the office on an urgent errand, luckily Moose is on hand to corral their young visitors.
With animal characters based on toys and figurines in Paul's own collection, the story is based on Paul's guiding ethos: that you can find inspiration in everything and anything, even if you have to look twice.

Published by Pavilion Books, The Young Designers: The Adventures of Moose & Mr Brown is available to shop now.
Discover More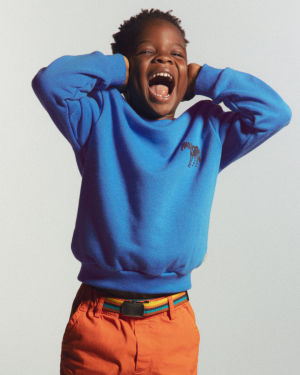 Paul Smith Junior Goes On An Adventure
Inspired by daydreams of holidays to faraway places, the new Paul Smith Junior collection takes its most intrepid trip yet.

05.22
Do you want to keep in touch?
Illustrations: Reprinted by permission of HarperCollins Publishers Ltd © Sam Usher, 2022.