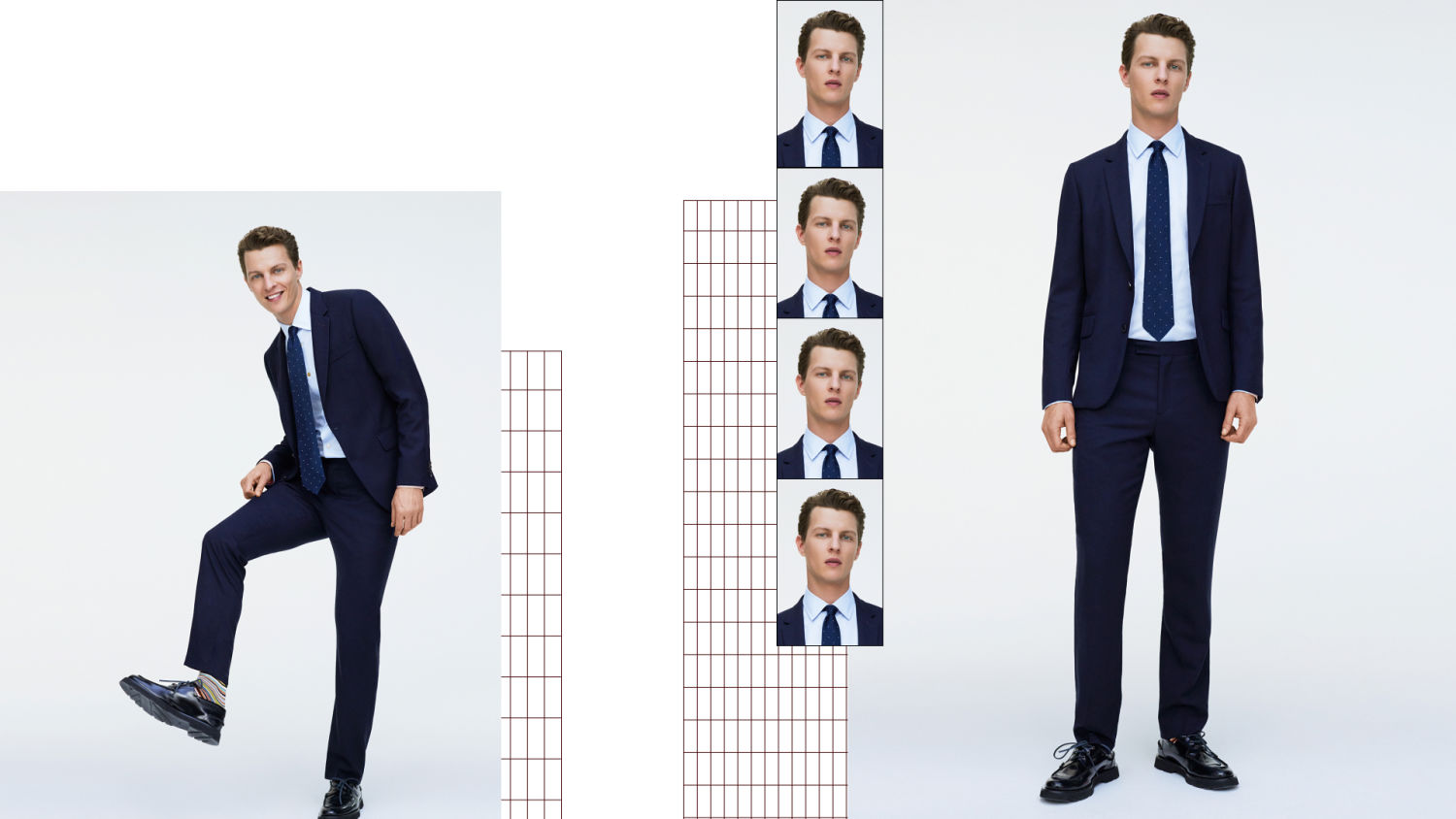 A SUIT TO LEAD IN
What Suit To Wear To A Business Meeting Or Job Interview
To make it a little easier picking out your work wardrobe, we delve into the do's and don'ts of buying a business suit and suits for interviews – from which type of lapel to how to settle on the right suit fabric.
To make it a little easier picking out your work wardrobe, we delve into the do's and don'ts of buying a business suit and suits for interviews – from which type of lapel to how to settle on the right suit fabric.
For a lot of men, the requirement to wear a very smart suit to the office every day is no more. Even those who work in corporate environments may find their offices have relaxed somewhat when it comes to the workplace dress code, particularly in a post-pandemic corporate landscape. For a select few, however, a business suit is still a daily prerequisite – more so if you have an important client meeting or corporate job interview to attend. If you're new to that world or simply need a refresher or bit of information, here are the basic guidelines to follow when wearing and buying a business suit for the office.
What Is A Business Suit?
Historically, the modern man's business suit evolved from the classic lounge suit – but don't let that term fool you: they were still considered a form of formal daytime dress, even back then – albeit less smart than an evening suit, tuxedo or morning dress. These days, men's designer suits and suits for interviews come in many forms, but at Paul Smith, we consider a business suit to be the most formal type of suit you wear to the workplace, one that wouldn't look out of place in the boardroom.

Of course, in more recent times as office and corporate dress codes have relaxed, business suits have become less common – but certain jobs and for important business meetings, a proper business suit is required.

Typically, a men's business suit is a two-piece suit (although it can include a waistcoat, for more traditional types) with a single- or double-breasted suit jacket with pleated or flat-fronted tailored trousers, in a traditional colour like navy, blue, charcoal or grey, or indeed, a checked pattern.
Double Breasted vs Single Breasted
There's no doubt about it that a single-breasted suit, with a two-or-three button closure, is the most common type of men's business suit you'll spot. In fact, the general shape and style hasn't changed in nearly a century. That being said, double-breasted tailored suits (or DB, as it is commonly abbreviated) – once reserved for the power suits of the 1980s – are making a bit of a comeback. Considered more formal, double-breasted suits tend to accentuate the shoulders, creating a stronger, more defined frame. That being said, more relaxed cuts are becoming increasingly common – but keep in mind there's a fine line between smart and slouchy here.
Business Suit Style Tips
At the risk of sounding rather serious, the overwhelming reason for wearing a business suit or job interview outfits for men isn't to look stylish. Instead, it is supposed to impart professionalism, capability and leadership qualities in the wearer in a corporate environment. That's not to say you can't make a business suit your own – and certainly, the cardinal rule of tailoring is that you should wear the suit, rather than allow it to wear you – but smartness rather than making a statement should be your first priority.

The best suit style tip is to find a cut that suits you and purchase it in three to four different fabrics and colours, then mix and match with various shirts and ties. With this initial investment, you'll have countless business outfit options for years to come.
Do's And Don'ts of Business Suits
Tailoring is one of those classes of clothing that comes with a very particular set of rules, most of which, like the oft-repeated dictum 'never wear brown in town', are considered outdated. A few persist in our modern era though. Perhaps the most important of these relates to buttoning your suit jacket. For buttoning single-breasted suit jackets with three buttons, you should follow the 'sometimes, always, never' rule, in that order. Translated, that means you should sometimes button your top button, always button the middle and never the last button.

You can, of course, unbutton your jacket when sitting. The same convention does not apply to double-breasted suits, however. Traditionally, all buttons with buttonholes should be fastened on a double-breasted suit jacket, but it's also acceptable to leave the bottom one undone. Unlike the case with single-breasted jackets, you should keep a double-breasted jacket fastened when sat down.
What Colour Business Suit?
Traditionally, business or corporate suits or business meeting outfits should never be black, since that colour is reserved for funerals and is typically worn by members of the service and hospitality industry. Navy or charcoal grey are by far the most common option when it comes to choosing smart office suits or suits for interviews, though a mid-blue or grey is also considered smart enough for everyday men's office wear.
Plain vs Checked Suits
While plain business suits are a much more common sight, a subtle checked fabric is not out of the question when it comes to suits for business meetings. A Prince of Wales check (otherwise known as a Glen Urquhart or Glen check) is perhaps the most well-known suit check and is identified by a combination of small and large checks. Historically, it was something reserved for the countryside or more casual leisure pursuits, but these days is commonly considered a business option. Though it doesn't fall into the category of check or pattern, you may also see certain men's business suits referred to as 'sharkskin'. This type of fabric is created by alternating lighter and darker yarns in a twill weave to impart a subtle, two-toned shine and slickness to suits – much like a shark's skin.
What Fabric Business Suit?
Worsted wool is by far the most common fabric for men's designer business suits, which tends to be a solid all-year, all-weather option. But it can be blended with cashmere or mohair for a lighter, almost silk-like hand. If you've ever shopped for a business suit, you may have spotted the term 'Super' followed by a number like 110, 120, 130 and so on. Unsurprisingly, this is known as the 'Super number' and denotes the grade and fineness of the (usually wool) fibres, with the higher the number corresponding to finer and rarer yarns.
It's common to assume that a higher Super number equals higher quality. But this is a little misleading, not least because a finer fabric will require a lot more care and isn't designed for regular wear. Furthermore, there's no worldwide standard or regulation on Super numbers so naturally there's variation from mill to mill. As a rule, for daily wear, look out for Super 110-130 fabrics. And for important client meetings or job interviews, when you may reserve wear to just a few times a month, Super 140-160.
Business Suit Lapels
Lapels have been part of men's formal dress for centuries and come in a variety of guises. With very few exceptions though, you'll find single-breasted business suits are equipped with a notch lapel – a style of lapel with a sort of sideways 'V' indent. It's by far the most common type of lapel you'll see on all tailored suits. If you opt for a double-breasted business suit, however, you're more likely to come across a peak lapel – a style of lapel with a sharp point that angles upwards towards the jacket's collar and, like a double-breasted suit, is generally considered more formal.
How Should A Business Suit Fit?
"Well" is the short answer to this question. Men's designer suits are not one-size-fits-all and there are few things worse or more uncomfortable than ill-fitting tailoring. It's always recommended to get your suit professionally altered and tailored – a service that Paul Smith offers in-store on all suit purchases – to account for your own sleeve, shoulder and trouser measurements. A tailor will know instinctively how your suit should fit your frame but will also take your own personal preference into account. As a rule, you want a business suit to make you stand a little taller and straighter but never at the expense of comfort – avoid anything oversized or skinny-fit and aim for a close (but never tight) fit on the shoulders and make sure you can button your jacket comfortably.
Best Business Shirts
For the smartest look, pair your business suit or men's interview outfit with a crisp cotton-poplin or twill shirt rather than an Oxford shirt. Plain white is, of course, the most common, but pale blue and other pastel shades – like lilac, mint and pink – are also good options to have in your repertoire. If your suit is plain, you could also opt for a subtle checked shirt in a windowpane, tattersall or even gingham check, but it's wise to avoid anything busier like plaid or anything elaborately patterned.
As for the finer details, double cuffs – the sort that require cufflinks to fasten – are the by far the most formal, but buttoned cuffs are certainly smart enough for every day. A point collar or spread collar are the most classic and versatile types of shirt collar but a cutaway collar – which has wider collar points that angle outwards to better frame your tie knot – is also an especially sophisticated and popular modern choice to look out for. And, while we're on the subject of men's work ties…
Ties For Business Suits
The decline in popularity of the tie doesn't apply here: in most cases, a tie it's advisable to wear a satin or silk necktie with a business suit. And, while we hate to be the bearer of bad news for those with a penchant for novelty or patterned ties, but those tend to be an inappropriate choice to team with a business suit. More commonly, it's wise to go for a plain, striped or micro-dot (a sort of mini polka dot) tie. Paler and more muted colours are also preferred – this is not the place to experiment with neon. Instead, stick to pastel tones like pink, green and blue, as well as darker classic shades like navy. Another tip to differentiate yourself: look for unusual or interesting textures – they can add an element of personality to men's business looks without detracting from its formality.
Smart Office Shoes
If you're wearing your smartest tailoring, your choice of shoes for an important business meeting or to complement your interview outfits should, naturally, follow suit. Therefore, it's wise to invest in a pair – black or dark brown – of leather Oxfords or Derby shoes. The former is considered the more formal of the two, but Derby shoes are undoubtedly almost as ubiquitous these days. Another option is monk strap shoes, which are lesser spotted nowadays, but pack plenty of personality.

Men's brogues – smart shoes which feature patterns created by small holes and crimping – while definitely acceptable in office environments, are historically a shoe worn in the countryside, so run the risk of looking out of place with business tailoring. Ultimately, the most important deciding factor in choosing a pair of business or office shoes should be quality. With the occasional resoling and a little TLC, a well-made pair can last decades.
Smart Office Accessories
When it comes to office and workwear accessories for men, less is more. There are a few guidelines to keep in mind, though. For watches, cufflinks, wedding bands and tie pins, be sure to match your metals: a gold watch, for example, will clash with a silver tie pin and vice versa. For belts, shoes and bags, the same goes for leather: stick to black or dark brown in a similar shade. On the subject of men's work bags, a good leather briefcase, folio or smart messenger bag will see you through many a commute to come. In winter, a simple striped or plain scarf in cashmere or wool is a solid investment.
Discover More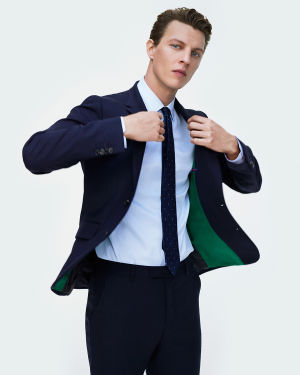 The New Smart Casual: What To Wear To The Office Nowadays?
As office dress codes continue to relax and WFH and hybrid working becomes more common, we delve into how to build a Modern Working Wardrobe – spanning work shirts, work suits and more – that works for you.
03.23
Do you want to keep in touch?
Published: 03.23
Words: Molly Isabella Smith
Photography: Ollie Thompson